It can be very frustrating getting dressed for the day when you have no idea what your own personal style is.
You will feel bored and uninspired by your clothes and putting together a stylish outfit will feel like a chore, so you will inevitably just stop trying and just throw on a boring outfit.
It can be confusing and overwhelming but I have put this guide together to help you find your personal style and kiss those style ruts goodbye.
Personal style is when the clothes and accessories you wear, reflect your lifestyle and who you are. Your clothes should speak to who you truly are. Your unique style will help you to express to who you are and also give can you the confidence to help you towards your goals. It can also connect you to a community of like-minded people. Style is timeless and does not and should not look like anyone else…and this is what makes it your own personal style.
Imagine opening your closet and easily finding an outfit you love. All the pieces of your closet reflect your style and make you feel chic and confident when you get dressed for the day.
This is the type of closet I want to help you build. And it's possible when you implement these next 6 steps.
HOW TO FIND YOUR PERSONAL STYLE
Are you bored and uninspired by your current wardrobe?
Do you want to put on an outfit that excites you and truly reflects the woman you see in your mind?
This is for you if you want to:
Wear clothes that reflect your personality

Don't know how to define your style and are bored of your current clothes

Need and want to step up your style game
If you are tired of just having a closet full of clothes but nothing to wear keep reading to find out your personal style and finally have a closet full of clothes that you will love and be excited to wear.
1. ASSESS YOUR CURRENT WARDROBE
You can't begin to know your personal style or what you like until you see what you already have. See what items you really love and also what items in your closet you could care less for.
When I started my journey of completely changing my style I had to come to terms with why I didn't have anything in my closet that truly reflected me. I noticed that even though I had a closet full of clothes…I never really had anything to wear and this is why:
Most of the items I had were all trendy pieces. I suffered from cute clothes syndrome and would literally just pick up any cute item I saw in the stores especially if it was on sale.
•  I was missing a ton of basic essentials (although I didn't know wtf essential were at this time)
•  I had old clothes that didn't fit or had holes taking up much-needed space
•  Nothing was organized and my closet was in complete chaos
2. FIND YOUR STYLE INSPIRATION
Create a Pinterest board and pin any fashion and outfit inspo that calls to you. Don't overthink this part. Just pin what grabs your attention and excites you. Only pin things you would actually wear
Find what those things have in common…
Are you pinning a lot of blazers?
Those items are part of your personal brand
Make a note of what items you have on your Pinterest board
You can mix and match any aesthetic. It's not about the aesthetic so much as it's about what items you gravitate towards.
You don't have to fit yourself into a box. You can mix and match to your heart's content and create your personal style.
Some places to look for inspo
Movies
Celebrities
Influencers
Fashion Magazines
Before you go out and buy clothes you need to make a plan. This will help you shop for the items you like and need and help you not just pick up clothes you don't need on a whim.
•  Set a budget – decide what you are willing to invest for new clothes
•  Determine what your clothing needs are so you can find clothes that fit your lifestyle & aesthetic: your clothing needs to reflect who you are and where you spend your time.
You need to think about where you spend the most time and that should be reflected in the clothes in your closet. If you spend most of your time at work then it makes sense that you have a majority of work clothing in your closet.
Make sure you keep your lifestyle in mind when defining your style because you want to create a wardrobe that reflects your reality.
If you are wondering what basics you should start with you can check out my blog post:  47 Closet Essentials Every Woman Needs.
It's finally time to shop. This can be exciting but also overwhelming.
So here are a few tips for when you are shopping at a physical store.
•  Know exactly what you are shopping for and be very 
intentional 
about finding just those specific items
•  You do not have to buy everything all at once. Pick 5 items you really want/need and buy those items. You can always shop for more items later on.
•  Always and I mean 
ALWAYS
 when possible try on every item.
•  If you can not try on items, make sure you check the return policy and try them on at home.
•  Return or exchange items that don't work out. Do not let them sit in your closet taking up valuable space.
When shopping online – know your measurements and always check the sizing chart. (All brands generally have their own sizes because they use different fit models.
There's just no way to have universal sizing because all bodies are different so it's a must to try on everything!)
Always check the return policies on any store you purchase from.
Try on everything once you receive the items, keep what you love, and return what don't.
5. PRACTICE PUTTING OUTFITS TOGETHER
Getting great at styling outfits takes practice and stepping out of your comfort zone to combine and create outfits you haven't tried before.
Putting together an outfit is a process and the only way to figure out your style is by trial and error. Trying it on and mixing items
This is how I have found some of my favorite outfits in my closet, by pairing items together that I normally wouldn't have.
Putting together outfits will become easier the more you practice! Don't skip this step. It's important!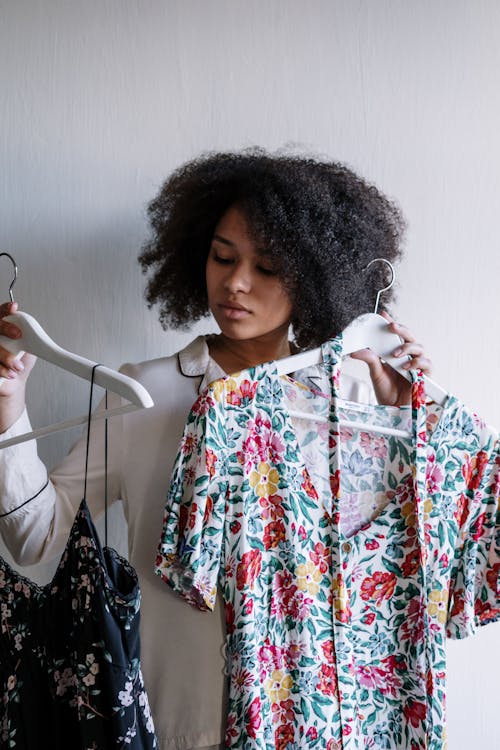 6.WORK ON YOUR CONFIDENCE
Fashion is subjective…who cares what everyone else thinks…just be you. Don't be afraid to put yourself out there. Don't be afraid to stand out. When you can confidently be yourself, it won't matter what anyone else thinks or says about your style. 
It can take courage to stand out in a world where we have been taught to fit in. Do not be someone who fits in and blends in with the crowd. Be you and live your best life in style!
And no matter what anyone else says about your style…the only thing that matters is that you love what you are wearing and it is an outfit that perfectly screams you.
"Confidence is when you truly love who you are, you believe in your self-worth and no one's opinions or comments can change how you view yourself" - Antonet Kruse
I really hope that this inspired you to change up your style and show up for yourself every day! Leave a comment below.
Did you find this personal guide helpful? Don't forget to Pin It or Bookmark it for easy reference!
If you would like to get this style guide in PDF form along with 5 bonus seasonal essential closet items checklists fill out the form below. 
Here's what you'll get
•  This blog article in PDF form
•  A spring closet essentials shopping checklist
•  A summer closet essentials shopping checklist
•  A fall closet essentials shopping checklist
•  A winter closet essentials shopping checklist
•  And a seasonless closet essentials shopping checklist